"King of Kool Kulfi"
About our Name of Brand "ASHARFI"
"We are a generic name today. People ask for Asharfi, leaving out the kulfi. But then you don't need the suffix" The Asharfi's-know what they have and we do, too.

Late Shri Ramchandra Gupta is founder of Asharfi-King Of Kool Kulfi. Young Ramchandra Gupta migrated to Ahmedabad from Sonai in Mainpuri district of Uttarpradesh, only with dream of making it big. He decided to sell kulfi.His expertise in kulfi making and Asharfi's capital set the ball rolling in 1954.

"Late Premvati Ramchandra Gupta has equally contributed in business with her husband. She was helping hand in manufacturing of kulfi."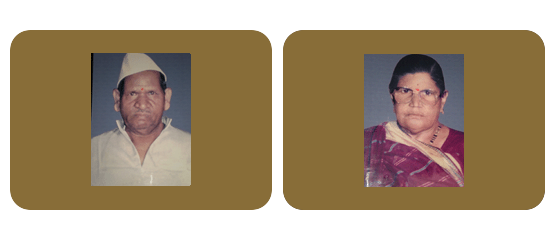 By giving the time in manufacturing kulfi she made kulfi so tasty and yummy. Carrying her experience, Asharfi indubitably endorses the inscription on business card--"The king of kool kulfi".

From a tiny stall in Law Garden selling three flavours of kulfi in the 1954s to a leading brand in Kulfi. It was sometimes in the 1954s that my grandfather Vrindavandas Gupta shifted to Ahmedabad from our hometown, Main puri in Uttar pradesh, and brought the recipe of kulfi with him.
"If its kulfi, it's got to be Asharfi, and sure enough any Ambavadi will vouvh for it Ironically"

Asharfi's success story started with selling kulfi from his tiny larri at Law Garden to the biggest name in the kulfi business in town today. Here they used to make about 5kg kulfi daily. Enough to sell off the same day, at 1.20 paisa per tin (kulfi mould) of the cream treat. During the day and night he sold kulfi from the larri (stall).

Three years down the line Ramchandra Gupta embarks full time in to kulfi making and marketing. Initially Ramchandra Gupta was jointed by his wife PremVati Ramchandra Gupta in manufacturing Kulfi. He was then help out by his sons in his booming business.
By 1960 the entire family was staying at a house in Bank of Baroda, Gandhi road and they also set up their manufacturing unit at the Bank of Baroda, Opp. Gandhi Road. The larri (stall) at Law Garden now graduated into shop.

By this time they were selling malai, pista, badam and kesar kulfi but now there are many flavours. But today we also serve Ice Cream, Falooda, Tilliwali Candy, Sugar Free Roll Cut, Pot Kulfi n many more will be there on Asharfi menu in future.